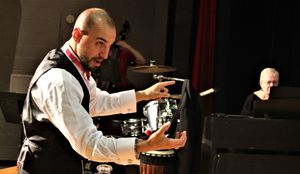 BWMS Choir 2017 - 2021
Joseph is a GRAMMY-Nominated choral director and completed his public school teaching profession at Black Water Middle School in Horry County, South Carolina.  During his four years at BWMS, Joseph directed choirs, general music, world music, and a production of Seuss Jr.  He earned degrees of Cum Laude Honors Bachelor of Science Degree in Vocal Music Education from Frostburg State University; Master of Music from Kent State University in 2013; and an Advanced Professional Certificate from Maryland State Department of Education. He studied choral conducting under Dr. Karen Soderberg-Sarnaker and voice under Dr. Jonathon Hodel, Dr. Kerry Jennings, and Prof. Jennifer Cooper.
Previous to Horry County, Joseph directed choir and department chaired in Maryland in middle and high school settings.  He was a guest lecturer and presenter for the Maryland Music Educators Association in 2010 and 2012 and has given numerous voice and choral workshops throughout Maryland in both public and private school settings.  Joseph also maintains a private voice studio focusing on vocal technique.
In the past, Joseph has been a chorister in the GRAMMY Award winning choir The Washington Chorus based in DC, headlined several collegiate operas and musicals, performed God Bless America at Washington Nationals Park, the National Anthem at Camden Yards with Phi Mu Alpha Sinfonia, and has traveled to China as a singer in a music tour that promoted friendly relations between Chinese and American universities.